Swan 60 - FENIX - Sold by Yeoman Yachts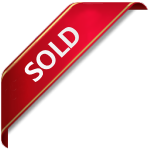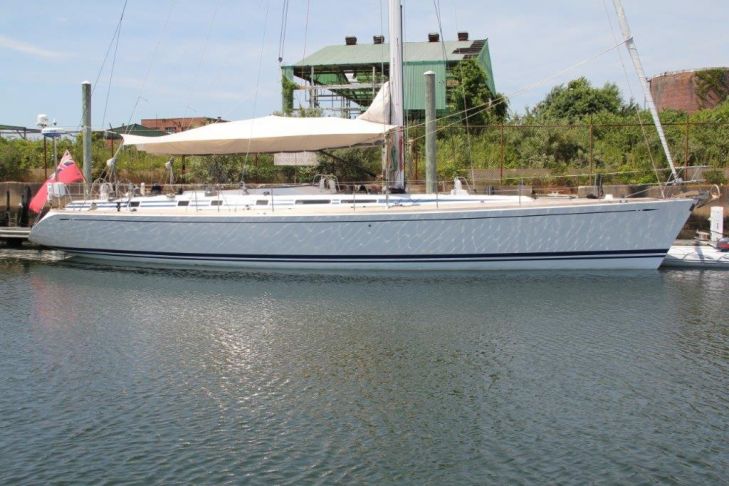 | | |
| --- | --- |
| Model | Swan 60 |
| Year | 1996 |
| Location | Portsmouth, RI |
| LOA | 60 ft 0 in |
| Asking Price | USD 665,000 |
HULL
White hull (Norpol) with Awlgrip Aristo Blue boot top and sheer stripes.
Awlgrip Snow white transom.
White antifouling Trilux 33, rolled.
Faired regatta keel, draft 11'6" (non standard keel).
Side windows and portholes (nine in total).
Composite chain plates for main and lower shrouds.
Chain plate for Inner forestay.
Additional aramid in underwater hull (two layers) and longitudinal knees in bow and stern.
Transom bathing platform with stainless steel ladder (manual operation) completely removable for racing.
Lightweight cover piece for transom when bathing platform is removed.
Hull window for inspection of propeller.
DECK
Aristo blue double coaming stripe on each side.
Teak deck (TDS 2006) Teak toe rail (TDS 2006).
Teak chocks for helmsman.
Teak chock in center cockpit and additional two chocks in place of removed cockpit seats.
Goiot hatches anodized in gun metal grey. New Acrylic lenses Nov 2016.
Steering system for twin stainless steel 1050mm diameter wheels finished in elkhide.
Removable aft cockpit lockers, stowage in coamings when seats are removed.
Lewmar V4/5 vertical windlass, recessed on foredeck, chain run under deck, rode above deck onto drum.
Removable for racing, complete with stainless steel blanking plate.
Inspection hatch to chain box in forepeak.
Removable stainless steel radar post, mounted through aft deck.
Table in forward cockpit, finished in high gloss.
WINCHES
Electric winches:
Secondary, 2 x Lewmar 66 AEST.
Mainsheet, 1 x Lewmar 77/3 AEST.
Main halyard, 1 x Lewmar 54 AEST.
Manual Winches:
Primary 2 x Custom Lewmar 900/3 A top cleat linked to removable composite pedestal with reduction bevel gear boxes.
Checks/traveller 2 x Lewmar 62 AST.
Downhaul/car puller 2x Lewmar 48 AST.
Halyard 2 x Lewmar 54 AST.
Starboard side stemhead roller (removable for racing).
Anchor pin locking system, and shank fastening system.
Gates in lifelines port and starboard.
Second set of racing stanchions with continuous lifelines and padding.
Ladder fittings one set on bathing platform, a second set on on side deck.
Passerelle socket aft.
Flag pole socket on aft deck.
Pulpit with opening gate forward, teak seat and Aquasignal combined LED bow light.
Closed roller fairleads, forward, amidships and aft (6).
Polished stainless steel Versari & Delmonte popup cleat on bow centre line.
Three Wichard 1750kg SWL pad eyes in aft cockpit.
Additional Fittings for running rigging include:
Tubes in coamings for foreguys, genoa car lines, topping lift and cunningham leading to Lewmar 48 AST on coamings with Spinlock XCS0814 3/SS clutches on each side.
4 x Spinlock ZS halyard jammers, -2 x Spinlock XCS0814 1/SS traveller clutches.
Removable twin downhaul blocks on foredeck.
13 x Wichard SWL 3000kg pad eyes for outboard sheeting, staysail and on coamings.
Recessed Harken genoa tracks and cars.
Screw in socket for staysail block.
*** Photo Gallery removed in Print View - See it online at http://yeomanyachts.com/sold-yachts/swan-60-fenix ***
INTERIOR
The joinery below was carefully selected to be the lightest honey colored close grained teak for which Nautor are so famous, and great attention has been paid to detail throughout.
All the ceiling lining has been done in the more traditional Swan style with white panels divided by narrow teak battens.
In addition FENIX is fitted with:
Collision bulkheads fore and aft.
Lockable doors to aft and guest cabins.
Additional grab rails throughout.
Removable teak gratings in all shower/head compartments.
AFT CABIN:
Large double berth on the centerline with a four drawer bureau each side, flanked by a curved couch to port.
Copious stowage with many drawers, lockers and a large hanging wardrobe.
Desk on the starboard side with stowage below and removable stool.
The aft cabin is served by its own private head and separate shower compartment.
The aft cabin is fitted with Dometic Air Con, 10000BTU.
CHART TABLE:
Generous proportioned Nav station with PC, 18" flat screen monitor.
Furuno TZT9 MFD with radar T&T Fleet broadband 150 T&T Sat C Chart stowage and felt lined drawers at chart table.
Large oilskin locker to aft of chart table.
The main circuit breaker switch panels and monitoring systems are located inboard and just aft of the companionway.
GALLEY:
The galley conforms to the standard layout on the Swan 60 but with some detail modifications and additional equipment.
There are additional sets of drawers forward of the stove, the lower drawers being especially deep for stowage and felt lined to protect contents.
Microwave oven Siemens HF 26040, 230VAC.
Alpes Inox extractor.
Force 10 4 burner cooker, compact model (2009).
Double sink. Corian work surfaces, color Sierra Malachite with sink cover.
SALOON:
There is leather upholstery (Caprone 0908 Stone) throughout the saloon, with Sunbrella interior Natte Antique slip covers.
To port - a large U shaped settee around a large inlaid dining table with removable chairs on the center line.
To starboard - a settee with a drinks locker at the forward end with glass cabinet facing inlaid coffee table.
There is a 32" inch Sharp flatscreen mounted above the starboard settee, linked with DVD player, Nav PC and Furuno TZT9 chart plotter/radar display repeater.
A bookshelf and additional lockers above port side settee.
Overhead lights and indirect lights over bookshelf are fitted with dimmers.
Teak mast cover.
There is a 12000BTU Dometic Air Conditioning unit to service the saloon.
PORT GUEST CABIN:
There is a large double berth fitted with deep drawers below, hanging locker forward and outboard lockers and shelves.
There are fittings for an additional stainless steel pipe cot berth which fits above the double.
There is a 10000BTU Dometic Air Con unit to serve the port Cabin.
The forward door leads into the private head/shower with all the usual fitments including a Corian wash basin and surface.
STARBOARD GUEST CABIN:
This comprises two single berths, one above the other, with draws under the lower berth.
Additional storage is provided by a hanging locker forward, cupboards and shelves.
The forward door leads into the starboard heads/showers compartment which is of same size and is fitted out the same way as the head to port.
There is a 10000BTU Dometic Air Con unit to serve the starboard cabin.
FOREPEAK:
This is fitted with a removable aluminum framed pipe cots with blue cloth and sail stowage below.
There are teak steps fitted to the aft bulkhead for access to the large fore hatch.
*** Photo Gallery removed in Print View - See it online at http://yeomanyachts.com/sold-yachts/swan-60-fenix ***
ENGINE
Main Engine Yanmar 4LHA-DTP 116kW at 3100rpm with hydraulic ZF 63a reduction gearbox , RH 3 bladed Max Prop.
Master engine control station located on starboard side of aft cockpit, a secondary engine control panel is located by nav station. (re-power Feb 2010)
Shaft brake
PLUMBING and VENTILATION
Freshwater capacity is 1140 L in four tanks with one filler line from deck terminating at valve chest under saloon floor.
Hot and cold pressurized fresh water - duel fresh water pumps.
40 Ltr 230VAC immersion heater, also heated by the main engine.
24VDC Spectra water maker Newport MK2 1000, with Z-Brane, 1000gallons per day.
Manual foot pump seawater spout in galley.
Shower in aft cockpit near bathing platform.
Sea water deck wash outlet in bow locker.
Two forward Vacuflush (2006) heads are connected to a holding tank with electric pump and deck suction port.
The aft Vacuflush (2006) head is connected to a holding tank with electric pump and deck suction port.
The shower sumps tanks have electric pumps.
All heads and shower sump pumps are located in sound insulating housings.
There is a high capacity bilge pump with manual and automatic operation.
A total of four Air Conditioning units have been installed:
Dometic Vector Turbo, 3 x VTD 10000BTU 250-410A 220V, 1 x VTD 12000BTU 250-410A 220V 50-60hz (installed 2011).
These are fitted with additional sound insulating jackets and are capable of both heating and cooling.
7 x Hella turbo fans fitted, two in each forward cabin, one in aft cabin, one in the galley.
Refrigeration systems replaced in 2009 to 12-24VDC Frigoboat, comprising of 3 compressor & cooling plate systems, one for each compartment.
ELECTRICAL
DC System:
160Amp service alternator on main engine charging both banks:
#1 Service Battery Bank 24v 370 Ah Mastervolt AGM.
#2 Service Battery Bank 24v 370 Ah Mastervolt AGM.
Service batteries new October 2016.
24VDC parallel switch.
Main Starter battery 12v 135Ah.
Generator Starter 12v 135Ah start battery.
12VDC parallel switch.
12VDC cigarette lighter outlets, 1 x chart table, 1 x galley, 1 x Port cabin, 1 x Aft.
AC System:
Shore power inlet 230V 50Amp inc. voltage & frequency protection.
230V outlets throughout.
Mastervolt 24V 75A Charger.
Mastervolt 24V 85A Charger (2012).
Mastervolt Mass 24/2500 230v Inverter (2012).
7Kva Northern Lights Generator (2011).
ELECTRONICS
Charts and pilot books.
Handheld compasses, dividers, parallel rules.
Two Ritchie 5" magnetic compasses on steering pedestals with nigh lighting.
Barometer.
Plastic Sextant.
Raymarine ST7000 Hydraulic Autopilot, SPX30 processor replaced 2012.
B&G Hercules 2000 System Pk 2:
2 x B&G FFD repeaters, one in aft cabin, one in Nav station.
2 x A&T FFD repeaters on forward cockpit coaming aft side.
B&G 360 degree analog wind direction in forward cockpit coaming aft side.
B&G Super Halycon 3 compass.
5x B&G 20/20 displays mounted on carbon mast bracket.
B&G Sonic speed & B&G paddle wheel with change over switch.
Racing forestay Load cell with B&G interfacing.
Furuno TZT9 touch MFD radar & plotter with 24" radome (2013).
Scanner mounted on removable stainless steel radar post, aft deck.
Interfaced with AIS and B&G network.
TZT9 with wireless repeater and output to 32" Flatscreen.
Class B Furuno AIS (2013).
VHF ICOM IC-M3223G GPS.
Thrane and Thrane Fleetbroadband 150, networked to PC (2013).
Thrane and Thrane Sat C 3020-C PC (new 2011) with 19" flatscreen at chart table, loaded with Maxsea TZ, FBB software, interface with B&G, 32" TV etc.
Digital Yacht Wl510 wifi booster antenna - linked to Nav PC with wireless network router.
Marine Receiver Sailor R2122 connected to Delta Antenna.
Icom SSB IC-M710 Radio.
Aerials: Grounding cage for SSB.
VHF antenna integrated to windex.
Digital Yacht WL510 Wifi booster antenna mounted on spreader.
Entertainment:
Sharp 32" Flatscreen located above settee on the starboard side saloon.
This is interfaced with a Sony DVD player and has inputs for iPod, the Nav PC and the Furuno TZT9 Chartplotter/Radar.
Additionally two pairs of speakers on deck with protective stainless cages, and one pair in the aft cabin all with isolating switches.
RIGGING
IG 25.7 m.
Fore Triangle 92.5 m2.
J 7.2 m.
Mainsail 83.4 m2.
P 23.0 m Spinnaker 312.8 m2.
Spars:
Carbon fibre mast and boom (Omohundro).
Mast, spreaders and boom re-painted Awlgrip Snow White October 2016.
Mast serviced with new mainsail track and cars, new sheaves in mast and boom, gooseneck and vang interfaces reworked, halyard "D" rings replaced, new jockey pole fittings.
Carbon spinnaker pole, coned ends painted white.
Carbon fibre jockey pole.Carbon fibre molded bow sprit, with twin tack lines.
Poles covered in protective elk hide.
Standing rigging:
Furling headstay, Reckmann RS2000/40.
Racing PBO forestay, covered in Technora for soft hanked jib.
Split PBO, Technora covered, backstay.
Navtec stainless steel shrouds (new 2013).
Aramid check stays.
Aramid baby stay connected to hydraulic adjuster.
Hydraulic System:
Navtec hydraulic system in deck mounted horizontal panel, four adjusters, manual 2 speed pump.
Navtec quick release button for Vang.
Outhaul cylinder in boom.
Twin hydraulic cylinder for backstay.
Hydraulic baby stay adjuster.
Running rigging:
Color coded running rigging, racing spec.(Dyneema sk75, with some covered in polyester technora covers).
Mast Jack:
Removable mast jack cylinders including manual pump with bar athwart ships through mast.
SAIL WARDROBE:
One sails carbon mainsail.
Onesails Technora cruising genoa.
Onesails 98% carbon jib with soft hanks.
A5 Quantum.
A2 Onesails.
A4 Onesails.
Code zero with furling cable to fit Karver KSF8.
S4 Quantum
Delivery Dacron Main.
Navtec Top down torsion cable and Karver KSF8 furler drum.
Sock.
Trisail Storm jib.
ADDITIONAL EQUIPMENT
GROUND TACKLE, MOORING LINES ETC:
40kg Rocna on stem head.
60lb CQR anchor.
60lbs Danforth anchor with stowage options in forepeak and lazarette.
110m of 10mm high tensile galvanised chain (new Feb 2017).
7 mooring warps.
6 large Avon fenders.
4 x large Polyform fenders with covers.
Upholstery, covers, canvas work: Spray hood for main companionway sunbrella blue, with white cover.
Large Sunbrella "Oyster" awning.
Compass and wheel covers.
Cushions for forward cockpit with white vinyl covers.
Various covers for saloon and cockpit tables.
2 x cockpit tables to fit around pedestal.
2 x stainless steel poles for cockpit table.
6 x settee cushions with sunbrella covers.
TENDERS
1 x 12ft AB RIB with 25HP Yamaha Enduro 2 stroke.
SAFETY EQUIPMENT - CODED to MCA CAT 2.
ACR EPIRB complete with case and hydrostatic release.
Ocean Safety Danbuoy recovery module.
Ocean Safety Jonbuoy.
2 x Horseshoe complete with lights and drogues.
1 x 25m floating man overboard recovery line.
17 x PFD Ocean Safety, automatic including D rings, light, whistle,10x spray hoods.
Grab bag- SOLAS A.
EV 6 Man life raft.
Grab bag- SOLAS A.
Lifeguard 8 man life raft.
Fire extinguishers (4x 2kgABC, 1x 1kgABC, 1x 4kgABC, 1x 6kgABC, 1x 6L fixed engine room installation).
SOLAS CAT C first Aid Pack.
2 x Fire buckets with lanyard.
2 x VHF handheld Icom.
2 x Fog horn.
Wooden bungs at all sea cocks.
1 x Helicopter sling for MOB recovery.
GENERAL
1 x Carbon fiber passarelle including carbon stanchions 1 x Stainless steel swim ladder, two piece.
1 x Hammock 2 x safes
SPARES, TOOLS ETC
Extensive inventory to be confirmed.
CONTAINER
Located in Antigua and no longer with certification. Inventory to be confirmed.